The Beginning Of The Clock Doctor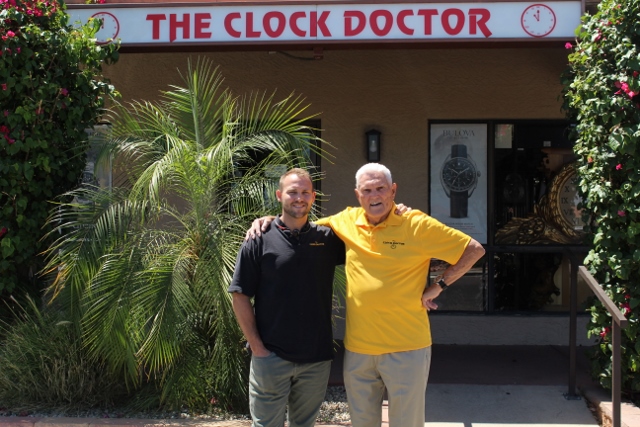 The collection and appreciation for mechanically driven time keeping devices is called Horology. For The Clock Doctor, the horological journey began in 1960 with owner Bill Gesswein Sr. purchasing a clock that was not running and teaching himself how to fix it. After some disassembly, and the clock coming apart in many pieces, his interest was piqued and he had his mind set on learning the craft.
While serving in the United States Air Force in Bitburg, Germany, Bill and a friend opened a clock shop; five years later Bill was transferred to Denver, Colorado and brought the clock shop with him. For 18 years Bill ran his clock shop in Denver until deciding to move to Scottsdale, Arizona where The Clock Doctor is now located.
Continuing The Tradition

Tyler Gesswein
Tyler is the grandson of clock makers in the Gesswein family. He has been coming into the shop and repairing clocks since he was 14 years old and has worked here full time since he was 19 years old. Tyler now runs the Clock Doctor's day to day operations.
Our Qualified Staff
Diane Cusano
Diane has a background in business and finance. She is a former corporate manager with an extensive history of customer service. She has been the Store Manager of the Clock Doctor since 2004 and also specializes in repairing battery operated clocks as well as music boxes.
Chris DuPerry
Originally from Maine, Chris graduated from NAWCC School of Horology in Columbia, PA. He has worked with us since 2012. Chris is a third generation clockmaker learning from his grandfather.
Videos Of The Clock Doctor
A visit from Fox 10 News to talk about our story and some of the unique items we carry.