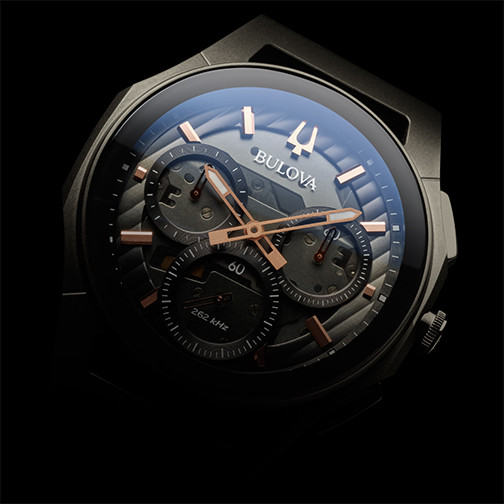 Bulova Watches
Bulova Watches founded in 1875, is an American company that has continually been on the cutting edge of technology. From introducing the very first electronic watch with a tuning fork for accuracy and being the first watch worn on the Moon, Bulova continues to pioneer and develop quality wrist watches with its focus on craftsmanship and technology.
Bulova Watches for Men and Women that range from classic to modern styles, including the CURV, Precisionist, Automatic, Marine Star, Classic and Rubaiyat lines.
Transitioning seamlessly from the office to a night out on the town, the watches in the Aerojet Collection will always be in style.
Perfectly replicating the brand's most nostalgic designs, while infusing modern elements.
Automatic by Bulova featuring compelling designs with open aperatures and exhibition case back, powered by the kinetic natural motion of the arm.
Inspired by vintage design with tailored, understated aesthetic through sophisticated detailing.
The world's first curved chronograph movement. Once again, Bulova adds to its long history of firsts with the CURV watch. Bulova bends the rules with the groundbreaking debut of the world's first curved chronograph movement. The collection is a marvel of technical engineering with a sleek ergonomic design and a slim case never before possible in a chronograph movement.
Built from the inside out, each watch is engineered to perfection with a high-performance quartz movement that vibrates at 262kHz frequency for precise accuracy. On the outside, Bulova's applied design technology makes an aerodynamic statement with a refined, contoured simplicity that exactly follows the wrist. Celebrate American ingenuity and craftsmanship with this unique design.
A deep dive into style. Featuring bold accents, iconic dial patterns and innovative materials.
Bulova presents advanced timekeeping at its best, Intricately styled and infinitely accurate with our exclusive three-prong crystal Precisionist movement and continuous-sweep second hand, the collection exudes quiet confidence with sport and dress styles. The chronographs are particularly refined with precision timing to 1/1000th of a second and 12-hour chronograph function. Water resistant up to 300 meters.
Rubaiyat, a name with poetic significance and sensuality, was chosen by Bulova in 1917 for its first-ever woman's timepiece. Now a hundred years in the making, the Rubaiyat heritage has been reinvented with a collection that honors our first expression of a lady's timepiece.
Fusing modern design aesthetics with deep roots of regal craftsmanship. The Rubaiyat collection masterfully articulates and celebrates empowered femininity.
The stunning design elements of the new Rubaiyat collection are sure to be a crowning achievement to any aficionado's treasure of timepieces.