Eco-Drive
Eco-Drive Watches By Citizen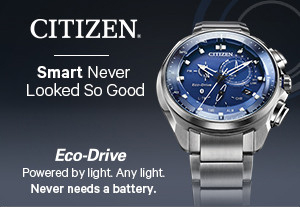 Eco-Drive Watches By Citizen. Powered by any light source, never needs a battery.
CITIZEN's proprietary light-powered technology, was called "Eco-Drive". A name that, not only represents their exceptional technological achievements, but one that reflect a concern for the natural environment.
This technology can generate power from any light source — artificial, natural, and even dim light — to keep watches running without ever replacing batteries.
The technical platform that made the concept possible was the Eco-Drive caliber 7878 movement. This movement was the first light-powered movement where the solar cells could be mounted under the dial. Previous light powered watches from Citizen and other manufacturers had the solar cell(s) mounted directly on the dial. This innovation was enabled by marked improvements in thin film amorphous silicon solar cells, which, by the early 1990s had become significantly more efficient.
One of the factors that distinguishes CITIZEN's Eco-Drive from other methods of keeping watches running at all times is its "power life."
Most Eco-Drive watches continue running for more than six months on a full charge, even in total darkness.
Thanks to the power saving function, CITIZEN make watches that can operate for up to even seven years without light.